Photo Album:
German Torpedo Station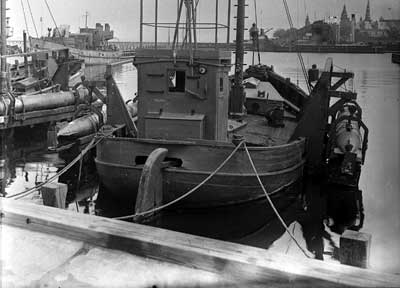 Pictures from the German Torpedo Station at Helsingør.
(Photo from the Naval Library's collections)
The German Kriegsmarine had during the 2nd World War established new landbased torpedo stations at Korsør and Helsingør. The stations were dis-mantled by the Danes immediately after the war.
The torpedo stations were equipped with G-7E type torpedoes, which were an electrical, wire guided torpedo, and the main purpose was an attempt to block the Great Belt and the Sound.
These pictures shows the station at Helsingør, just close to the Kronborg (Elsinore) Castle in the northern part of the Sound.
Click on the large photo above to enlarge and start the collection, or pick a picture from the survey below, and click to enlarge.
-
-

- Do you miss a major event on this Site,
or do you hold a great story?
Are you able to contribute to the unfolding of the Danish Naval History,
please e-mail me, enclosures are welcome.
Please remember to list your sources.
You can also use the Naval Web Forum on this web-site.