Photo Album:
Preparing a SeaSparrow (1979)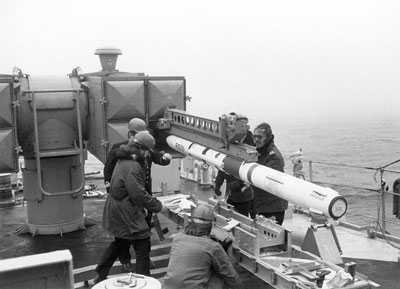 Preparing a Sea Sparrow SAM on board the frigate HERLUF TROLLE.
(Photo: Commander Kjeld E. Haick, from the Naval Library's collections)
From the mid 1970's the frigates of the PEDER SKRAM Class were refitted and rearmed with missile armament.
In 1979 the frigate HERLUF TROLLE had also been refitted and rearmed, and this album shows the first preparing and test launching of a Sea Sparrow Surface-to-Air-Missile (SAM) from the Mk29 Launcher mounted on the frigates quarterdeck.
Click on the large photo above to enlarge and start the collection, or pick a picture from the survey below, and click to enlarge.
-
-

- Do you miss a major event on this Site,
or do you hold a great story?
Are you able to contribute to the unfolding of the Danish Naval History,
please e-mail me, enclosures are welcome.
Please remember to list your sources.
You can also use the Naval Web Forum on this web-site.