Photo Album:
Lifted from the Gulf (2003)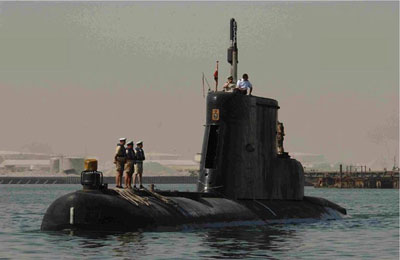 The submarine SÆLEN in Bahrain June 2003.
(Photo: Royal Danish Navy)
After exactly one year in international operations in the Mediterranean and in operation Iraqi Freedom in the Arabian Gulf, the submarine SÆLEN was lifted back to Denmark on board the German heavy lift carrier GRIETJE.
This way of transportation was chosen to save both time and money, and all other equipment send to support both the submarine and the corvette OLFERT FISCHER during the operations in the Gulf were returned on board the carrier.
GRIETJE arrived Frederikshavn June 30, and the submarine could return to the sea after fourteen days of inboard transportation.
Click on the large photo above to enlarge and start the collection, or pick a picture from the survey below, and click to enlarge.
-
-

- Do you miss a major event on this Site,
or do you hold a great story?
Are you able to contribute to the unfolding of the Danish Naval History,
please e-mail me, enclosures are welcome.
Please remember to list your sources.
You can also use the Naval Web Forum on this web-site.