Photo Album:
The Surveying Vessel SKA 11 ran aground in Greenland and sank during the Salvage Operation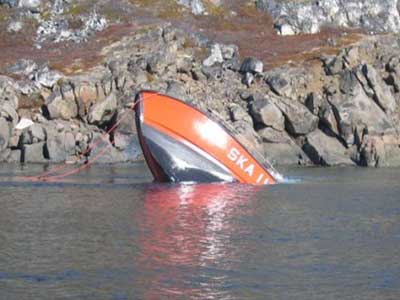 Just minutes after the SKA 11 surveying vessel was towed off the ground,
it started sinking.
(Photo: RDN/Island Command Greenland)
During survey operations off Naval Station Gronnedal in the Arsuk Fjord in Greenland, the surveying vessel SKA 11 ran aground on a sunken rock, Thursday April 27, 2006. The crew abandoned the vessel, and was saved by the sister ship, SKA 12, which was close by.
Tug assistance was called in from Nuuk, and several attempts were made to get the vessel off the rock, but cold gale force wind and snow fall in the area made the salvage operation extremely difficult and hazardous.
After five days and severe weather and tide, it was noticed Tuesday, that there was severe damage to the starboard side of the hull, but despite the risk of sinking, it was descided to bring the ship afloat the next day at daylight and high tide.
On Wednesday morning (local time), May 3, 2006, the salvage operation began, as the tug started to tow the vessel of the ground. But minutes after the vessel was brought free of the rock, SKA 11 sank and now rest 300 metres below the sea level.
There is no information whether further salvage attempts will be made.
Click on the large photo above to enlarge and start the collection, or pick a picture from the survey below, and click to enlarge.
-
-

- Do you miss a major event on this Site,
or do you hold a great story?
Are you able to contribute to the unfolding of the Danish Naval History,
please e-mail me, enclosures are welcome.
Please remember to list your sources.
You can also use the Naval Web Forum on this web-site.