BALTOPS 2008:
Russian Naval Infantry landed at Zealand's Point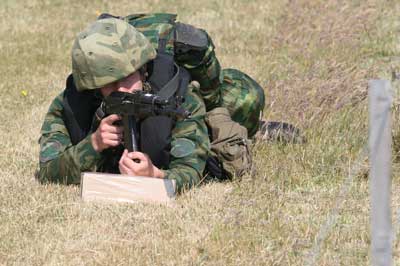 The Russian naval infantry secured the area around the evacuation Zone.
(Photo: Johnny E. Balsved)
Wednesday, June 16, a joint force of Russian marines from the 336th Naval Infantry Brigade and British commandos from the 4th Assault Squadron Royal Marines took part in an exercise evacuating 65 Danish civilians from an area close to the RDN Weaponry School at Zealand's Point (Sjśllands Odde).
The 65 "civilians", all regular members of the Danish Home Guard, should this day act as Danish embassy staff members in urgent need of a safe transfer out of a threatened area.
The official name for this type of exercise is NEO (Non-Combatant Evacuation Exercise), which indicates the evacuation of personnel from a threatened area, but not a warzone.
The evacuation and landing operation was commanded from the Royal Navy's newest Commando Assault and Command and Control ship HMS BULWARK and the Russian large landing ship KALININGRAD.
Click on the large photo above to enlarge and start the collection, or pick a picture from the survey below, and click to enlarge.
-
-

- Do you miss a major event on this Site,
or do you hold a great story?
Are you able to contribute to the unfolding of the Danish Naval History,
please e-mail me, enclosures are welcome.
Please remember to list your sources.
You can also use the Naval Web Forum on this web-site.