Edited and
Designed by:

2den April
(1913-1929)
(In English: April 2nd)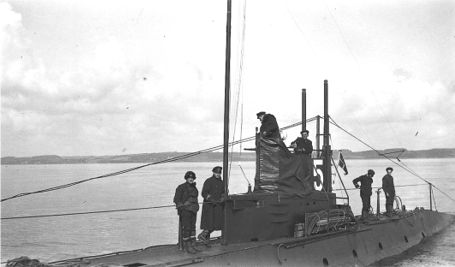 The submarine 2den APRIL.
(Photo: Royal Danish Navy)
-
-
Specifications

Built by:

Whitehead-Fiume Ship Yard, Austria

Design:

n/a

Laid down:

n/a

Launched:

March 31, 1913

Commissioned:

September 4, 1913

Decommissioned:

January 15, 1929

Pennant Number:

5

Int'l Call Sign:

n/a

Displacement:

164 tons - surface
204 tons - submerged

Dimensions:

Length:

Beam:

Draught:

-

38.9 m

3.6 m

2.3 m

Complement:

10 - 14 men

Propulsion:

430 Hp (270 Hp - submerged)
1 ea Propeller

Range:

n/a

Armament:

2 ea 45 cm Torpedo tubes (fore)

After 1917 also:

2 ea 8 mm Machineguns

Speed:

13 knots - surface
9.3 knots - submerged
History

Date:

Military Service:

February 5, 1914

Sea trials

1914

In the Training Squadron

August 1, 1914
- March 31, 1919

I the Danish partly mobilized forces, stationed in the Sound and the Great Belt

December 1926

Transferred to the naval reserve

January 15, 1929

Decommissioned and sold for scrapping
-
Commanders

Date:

Commanding Officer:

1914

Lieutenant R. West
-
Notes
Was originally baptized TRITON, but at commissioning in September 1913, the name was changed to 2den APRIL. The funds for acquiring this sub had been collected by Danish women through a nationwide collection.
The name 2den APRIL was chosen in commemoration of the Battle of Copenhagen Roads April 2, 1901.
-
To the left is the submarine TRITON, later named 2den APRIL,
at the ship yard in Austria in 1913. To the right is the smaller sub SS 3,
that from 1914 became U 12 in the Austrian-Hungarian Navy.
Sources:

&

U-både gennem 75 år - Det danske ubådsvåben 1909-84, by Hans Chr. Bjerg, Hans Chr. Dahlerup Koch and P. B. Nielsen, Forlaget Forum, 1984

&

Vore orlogsskibe fra halvfemserne til nu, by Kay Larsen, Nyt Nordisk Forlag/Arnold Busck, 1932

&

Vore Undervandsbåde gennem 50 år (1909-1959), by Commander s.g. R. Steen Steensen, Marinehistorisk Selskabs Skrift no. 5, forlaget Ejnar Munksgaard, 1960

44You are also referred to the Naval Bibliography

- Do you have photos
or other information on this ship?
Are you able to contribute to the unfolding of the Danish Naval History,
please e-mail me, enclosures are welcome.
Please remember to list your sources.
You can also use the Naval Web Forum on this web-site.


-
-