Edited and
Designed by:

ÆGIR
(1951-1967)
(In English: Aegir)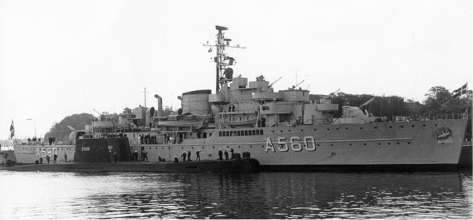 The tender ÆGIR with two submarines of the DELFINEN Class alongside.
(Photo: From the Royal Danish Naval Museum archives)
-
Classification

Type:

Tender (Later Training Ship)

Class:

n/a

Other Ships
in Class:

n/a
-
Specifications

Built by:

Schiffswerft & Maschin Fabrik NEPTUN, Rostock, Germany

Design:

n/a

Laid down:

n/a

Launched:

December 4, 1937

Commissioned:

December 12,1951

Decommissioned:

January 10, 1967

Pennant Number:

A560

Int'l Call Sign:

OUGF

Displacement:

2,379 tons

Dimensions:

Length:

Beam:

Draught:

-

94.30 m

13.63 m

4.13 m

Complement:

227 men (44 officers, 183 petty officers and privates)
plus up to 122 Naval Cadets/Trainees

Propulsion:

2 x MAN diesel engines 4,250 Hp
2 screws

Range:

8,450 nautical miles at 9 knots

Armament:

1951-1957:

2 x 127 mm Gun K M/34 Sa (2x1)
6 x 40 mm Machine Gun M/36 LvSa (6x1)
2 x 37 mm Gun (later removed)

From 1958- :

2 x 102 mm Guns K M/52 LvSa2 (2x2)
6 x 40 mm Machine Gun Mk M/48 LvSa (6x1)
(1 x 40 mm gun removed in 1963)

ASW:

2 x Depth Charge Mortars Mk. IV
2 x Depth Charge Launchers

Cargo:

24 x 533 mm torpedoes (for submarines)

Speed:

17.3 knots
History

Date:

Military Service:

1945
- December 3, 1947

Serving as a tender for German Mine Sweepers

June 8, 1948

Bought by Denmark from the American authorities

June 1948
- December 1951

Modified at the Naval Dockyard, Copenhagen

January 1952

Officially typed as a tender, but also used as a Training Ship for Naval Cadets and Command Ship

October 1956
- February 1958

Rearmed and modified at the Naval Dockyard, Copenhagen

1958

On tour to Canada

1961

On tour to the Mediterranean area

September 1964

Command Ship of the Royal Flotilla on tour to Greece, celebrating the wedding of King Constantine and the Danish Princess Anne-Marie

1964

Type officially changed fro Tender to Training Ship

July 20, 1967

Sold to Jernhaven, Masnedø (Paul Bergsøe & Son) for scrap
-
Commanders

Date:

Commanding Officer:

-

n/a
-
Notes
Originally designed for China, but taken over by the "Deutsche Kriegsmarine", named TANGA, and served as a tender for German E-boats (Motor Torpedo Boats) during the 2nd World War.
-
Sources:

&

Flådens skibe og fartøjer 1945-1995, by Gunnar Olsen and Svenn Storgaard, Marinehistoriske skrifter, Copenhagen 1998 (ISBN 87-87720-13-2)

44You are also referred to the Naval Bibliography

- Do you have photos
or other information on this ship?
Are you able to contribute to the unfolding of the Danish Naval History,
please e-mail me, enclosures are welcome.
Please remember to list your sources.
You can also use the Naval Web Forum on this web-site.


-
-