Edited and
Designed by:

DRAGEN Class
(1930-1941)

(In English: The Dragon)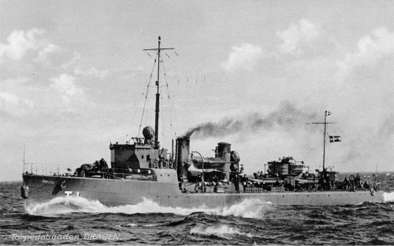 The torpedo boat DRAGEN.
(Photo: Archives of the Royal Danish Naval Museum)
-
Classification

Type:

Torpedo boat

Class:

DRAGEN Class
-
Units in Class

PT No.:

Name:

Launched:

Comm.:

Decomm.:

T1

DRAGEN

11/08/1929

07/15/1930

02/05/1941

T2

HVALEN

06/13/1930

07/18/1931

02/05/1941

T3

LAXEN

11/28/1930

07/30/1931

02/05/1941
-
Comments to the Class
The first two torpedo boats DRAGEN and HVALEN were equipped with Swizz turbines from Brown-Boveri, bu LAXEN was equipped with Danish turbines from ATLAS.
- Several sources mention the 3 torpedo boats of the GLENTEN Class as being part of the DRAGEN Class, but this must be resolved as incorrect.
The GLENTEN Class was armed with 87 mm guns as main armament and only four torpedotubes on the deck, where the DRAGEN Class had 75 mm guns and six torpedo tubes on the deck.
-
Specifications

Built by:

Naval Dock Yard, Copenhagen

Design:

n/a

Displacement:

284-288 tons

Dimensions:

Length:

Beam:

Draught:

-

59.6 m

5.95 m

2.23 m

Complement:

46 men

Propulsion:

6,000 Hps.

Range:

n/a

Armament:

2 ea 75 mm Guns
2 ea 20 mm Guns
2 ea 45 cm Torpedotubes (bow)
6 ea 45 cm Torpedotubes (2x3) (deck)

Speed:

29 knots
Additional Notes
The Royal Danish Navy was constrained to hand over 6 newer Torpedo Boats to the German Occupation Force in February 1941. This were the 3 boats of the GLENTEN Class and 3 boats of the DRAGEN Class. - The boats were disarmed before the hand over.
-
Sources:

&

Flådens skibe og fartøjer 1945-1995, by Gunnar Olsen and Svenn Storgaard, Marinehistoriske skrifter, Copenhagen 1998 (ISBN 87-87720-13-2)

&

Torpedobåde gennem 100 år - Det danske torpedobådsvåben 1879-1979, by Hans Garde & Hans Chr. Bjerg, Marinehistorisk Selskab, Copenhagen, 1979 (ISBN 87-87720-02-7)

&

Vore orlogsskibe fra halvfemserne til nu, by Kay Larsen, Nyt Nordisk Forlag/Arnold Busck, 1932

&

Vore Torpedobaade gennem 75 Aar, by R. Steen Steensen, Marinehistorisk Selskab, Copenhagen, 1953

44You are also referred to the Naval Bibliography

- Do you have photos
or other information on this ship?
Are you able to contribute to the unfolding of the Danish Naval History,
please e-mail me, enclosures are welcome.
Please remember to list your sources.
You can also use the Naval Web Forum on this web-site.


-
-