Edited and
Designed by:

HOLM Class
(2006- )
(In English: Holm means a small islands)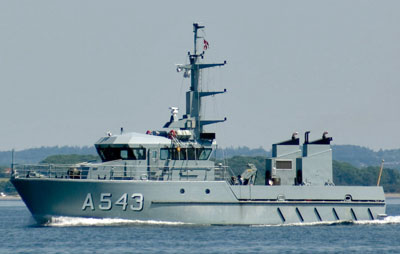 The second standard vessel of the MK I type, the training vessel ERTHOLM seen here at sea in the summer of 2007.
(Photo: Thomas Iversen, Odense)
-
Classification

Type:

Surveying Vessel, Training Vessel, Support Vessel or Remote Controlled Mine Clearance Drone

Class:

HOLM Class (Standard Vessel MK I)
-
Units in Class

PT No.:

Name:

Launched:

Comm.:

Decomm.:

A541

12/10/2005

01/27/2006

In service

A542

08/05/2006

12/21/2006

In service

A543

03/25/2006

05/08/2006

In service

A544

01/06/2007

02/07/2007

In service

MSD5

06/05/2007

06/29/2007

In service

MSD6

11/03/2007

03/28/2008

In service
-
Comments to the Class
Two of these vessels (A541 & A542) will be used as a Surveying Vessels, two are commissioned as Training Vessels for Naval Cadets (A543 & A544). The last two (MSD5 & MSD6) to be commissioned as remote controlled mine clearance drones, and as Support Vessels if needed.
-
Specifications

Built by:

Danish Yacht A/S, Skagen

Design:

Hauschildt Marine in cooperation with the Danish Defence Acquisition and Logistics Organization/Naval Material Command, Copenhagen and Danish Yacht A/S, Skagen.

Displacement:

98 tons

Dimensions:

Length:

Beam:

Draught:

-

28.90 m

6.30 m

1.74 m

Complement:

3 men, capacity for lodging 10

Propulsion:

2 ea Scania DC 16, 375 kW at 1.800 rounds each
2 ea Propellers
1 ea Thruster - HRP411

Range:

600 nautical miles at 10 knots

Armament:

None

Speed:

Around 13 knots
Additional Notes
The vessels are built in a very flexible manner making it possible to solve several operational tasks. They have one flex container position aft that can hold environmental container, crane or stores.
-

- Do you have photos
or other information on this ship?
Are you able to contribute to the unfolding of the Danish Naval History,
please e-mail me, enclosures are welcome.
Please remember to list your sources.
You can also use the Naval Web Forum on this web-site.


-
-
This page was last updated: December 17, 2008
This page was first published: January 8, 2006