O Class
(1998- )
(In English: n/a)
The surveying vessel O-1.
(Photo: Farvandsvæsenet - Copenhagen)
-
Classification

Type:

Surveying Vessel

Class:

O Class
-
Units in Class

PT No.:

Name:

Launched:

Comm.:

Decomm.:

O-1

O-1

??/??/1998

??/??/1998

In service

O-2

O-2

??/??/1998

??/??/1998

In service
-
Comments to the Class
These vessels are primarly used for surveying in shallow waters.
-
Specifications

Built by:

Design:

Søværnets Materielkommando, (Naval Material Command) Copenhagen and Faaborg Værft A/S

Displacement:

3,5 tons

Dimensions:

Length:

Beam:

Draught:

-

7.65 m

2.54 m

0.60 m

Complement:

3 men

Propulsion:

2 ea 36 Hps Yanmar Marine Diesel Outboard

Range:

n/a

Armament:

None

Speed:

8.5 knots
-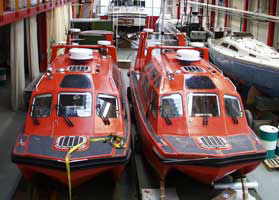 The two surveying vessels seen at the warf just before commissioning.
(Photo: Faaborg Værft A/S)

- Do you have photos
or other information on this ship?
Are you able to contribute to the unfolding of the Danish Naval History,
please e-mail me, enclosures are welcome.
Please remember to list your sources.
You can also use the Naval Web Forum on this web-site.