Edited and
Designed by:

DANNEBROG
(1932- )
(In English: n/a)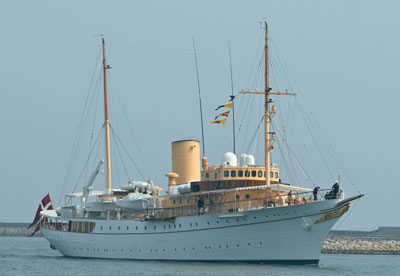 The Royal Yacht DANNEBROG entering Naval Base Frederikshavn in April 2007.
The Yacht is flying its official NATO pennant number ALFA-FIVE-FOUR-ZERO.
(Photo: Johnny E. Balsved)
-
Classification

Type:

Royal Yacht

Class:

n/a

Other Ships
in Class:

n/a
-
Specifications

Built by:

Naval Dockyard, Copenhagen

Design:

n/a

Laid down:

January 2, 1931

Launched:

October 10, 1931

Commissioned:

May 26, 1932

Decommissioned:

In active service

Pennant Number:

A540 (not shown)

Int'l Call Sign:

OUDA

Displacement:

1,225 tons

Dimensions:

Length:

Beam:

Draught:

-

75.58 m

10.40 m

3.65 m

Complement:

58 men
(plus 27 from the Royal Household and 14 passengers)

Propulsion:

1,600 Hp.

After 1980:

2 ea B&W Alpha Diesel engines 1,650 Hp
2 ea Propellers

After 1988/1989 additional:

1 ea Bowthruster Jastram 160 Hp

Range:

3,860 nautical miles at 13.9 knots

Armament:

Until 1948:

2 ea 37 mm Guns (salute)

Speed:

14.75 knots
History

Date:

Military Service:

May 2, 1932

Sea trials with HM the King and Queen on board
-
Commanders

Date:

Commanding Officer:

1932

Commander s.g. K. E. Ackermann

1936 and 1937

Commander s.g. Christian V. Evers

April 22, 1966
- December 31, 1966

Captain E. V. Jørgensen
-
-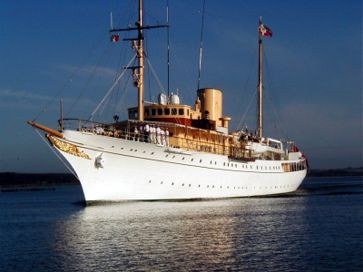 The Royal Yacht DANNEBROG.
(Photo: Karin Overgaard)
The Royal Yacht DANNEBROG.
(Photo: Royal Danish Navy)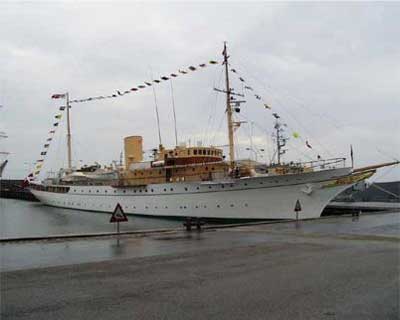 DANNEBROG moored in Frederikshavn.
Notice the Queens banner flying from the aft mast.
(Photo: Royal Danish Navy)
DANNEBROG in the port of Copenhagen in 1932.
(Photo: Archives of the Royal Danish Naval Museum)
Sources:

&

Da Danmarks Flaade blev sænket, by F. H. Kjølsen, Commander s.g., H. Hagerups Forlag, Copenhagen, 1945

&

Danmarks Flaade, by Lieutenant Commander K. Dahl and H. Hjorth-Nielsen, Published by Selskabet til udgivelse af Kulturskrifter, Copenhagen, 1934

&

De Danske Kongers Skibe, by R. Steen Steensen, Strubes Forlag, Copenhagen 1972

&

Flådens skibe 1950, by R. Steen Steensen, Det Schønbergske Forlag, Copenhagen, 1950

&

Flådens skibe og fartøjer 1945-1995, by Gunnar Olsen and Svenn Storgaard, Marinehistoriske skrifter, Copenhagen 1998 (ISBN 87-87720-13-2)

&

Vore orlogsskibe fra halvfemserne til nu, by Kay Larsen, Nyt Nordisk Forlag/Arnold Busck, 1932

44You are also referred to the Naval Bibliography

- Do you have photos
or other information on this ship?
Are you able to contribute to the unfolding of the Danish Naval History,
please e-mail me, enclosures are welcome.
Please remember to list your sources.
You can also use the Naval Web Forum on this web-site.


-
-
This page was last updated: August 1, 2007
This page was first published: October 30, 2003