Edited and
Designed by:

| | | | | |
| --- | --- | --- | --- | --- |
| Data Sheet | Service | CO's | Photo Album | Crest |
EJNAR MIKKELSEN

(2009- )


(In English: n/a)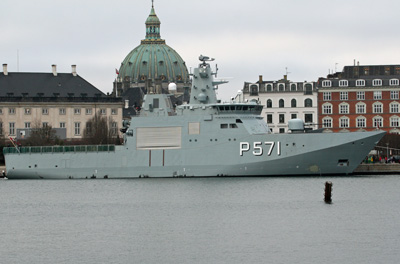 The offshore patrol vessel EJNAR MIKKELSEN seen here in Copenhagen January 22, 2009, notice the 76 mm Gun Mk M/85 LvSa mounted on the foredeck.
(Photo: Johnny E. Balsved)
-
Classification

Type:

Offshore Patrol Vessel

Class:

Other Ships
in Class:

P570 KNUD RASMUSSEN
-
Specifications

Built by:

Karstensens Ship Yacht A/S, Skagen (The hull is built at the Polish Stocznia Pólnocna (Northern Shipyard) in Gdansk)

Design:

Karstensens Ship Yacht A/S in cooperation with the Danish Defense Acquisition and Logistics Organization

Laid down:

n/a

Launched:

July 1, 2007

Commissioned:

January 16, 2009

Decommissioned:

In service

Pennant Number:

P571

Int'l Call Sign:

n/a

Displacement:

1,720 tons

Dimensions:

Length:

Beam:

Draught:

-

(LOA) 71.80 m
(LWL) 61.00 m

14.60 m

4.95 m

Complement:

18 men (lodging capacity for 43)

Propulsion:

2 ea B&W ALPHA 8L27/28 á 2.720 kW v/800 rpm
1 ea Propeller (CP)
RENK reduction gear "Twin in/single out"

Range:

3,000 nautical miles

Armament:

2 ea 12,7 mm Heavy Machine Guns M/01 LvSa

Additional space for:

1 ea SAR/Landing Crafts of the LCP Class

Speed:

17 knots
-
Notes
The vessel has two flex container positions, one in the front and one in the aft, enabling it to carry a number of flexible systems, must of all one 76 mm Gun Mk M/85 LvSa on the foredeck.

- Do you have photos
or other information on this ship?
Are you able to contribute to the unfolding of the Danish Naval History,
please e-mail me, enclosures are welcome.
Please remember to list your sources.
You can also use the Naval Web Forum on this web-site.


-
-
This page was last updated: January 24, 2009
This page was first published: September 14, 2008