Edited and
Designed by:

ESBERN SNARE

(2005- )

(In English: n/a)
The Command & Support Ship ESBERN SNARE departing Aarhus June 15, 2008.
(Photo: Johnny Balsved)
-
Classification

Type:

Command and Support Ship

Class:

Other Ships
in Class:

L16 ABSALON
-
Specifications

Built by:

Odense Staalskibsværft, Lindø

Design:

Naval Material Command, Denmark in cooperation with Odense Staalskibsværft, Lindø

Laid down:

n/a

Launched:

June 21, 2004

Commissioned:

April 18, 2005

Decommissioned:

In active service

Pennant Number:

L17

Int'l Call Sign:

OUFB

Displacement:

6,300 tons

Dimensions:

Length:

Beam:

Draught:

-

(LOA) 137.60 m
(LWL) n/a

19.5 m

6.3 m

Complement:

100 men, cabins for 169 men.
Total lodging capacity up til 300 men.

Propulsion:

2 ea MTU 8000 M70 engines at 8.200 kW each
2 ea Propellers
1 ea Bow thruster (15 tons pressure)

Range:

9,000 nautical miles

Armament:

1 ea 127 mm Gun Mk M/02 LvSa (5" Mk 45 Mod 4)

From 2005:

16 ea Harpoon SSM (2x8)
3 ea Sea Sparrow SAM VLS Mk. 48 Launcher (3x6)
4 ea Stinger Lv M/93 (2x2)
7 ea 12.7 mm Heavy Machine Gun M/01 LvSa

From 2007, also:

2 ea 35 mm CIWS Mk M/04 LvSa (2x1)
4 ea SEAGNAT/SBROC Mk. 36 (4x6)
2 ea Torpedolauncher Mk. 32 Mod. 14 (2x2) for Anti Submarine Torpedoes MU-90 M/04

Additional space for:

2 ea Landing Crafts of the LCP Class
2 ea Agusta-Westland EH-101 Helicopters
? ea Mines

Speed:

23 knots (service speed)
History

Date:

Military Service:

February 25, 2005

Named ESBERN SNARE by the Danish Prime Minister, Anders Fogh Rasmussen

July 2, 2007

Adopted by Århus
-
Commanders

Date:

Commanding Officer:

April 18, 2005

Commander s.g. Stig Meyer
-
Notes
The command & support ships can perform a number of national and inter-national task, including transportation of personal and material, command platform for land, air and sea operations. The ship also has a mine laying capacity. It also has the capacity to carry out humanitarian operations as a hospital ship.
The ship is fitted with a 900 square meter flexible deck to perform in different operations and has a roll-on-roll-off (RO/RO) capacity aft.
-
The Command & Support Ship ESBERN SNARE in Aarhus during the
Tall Ships Race, July 2007.
(Photo: Michael Nielsen, Århus)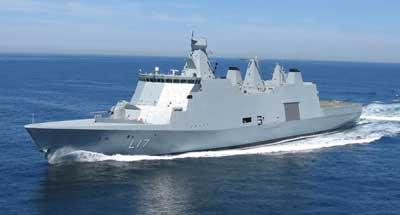 The Command & Support Ship ESBERN SNARE during sea trials
in the spring of 2005.
(Photo: Royal Danish Navy)
The Command & Support Ship ESBERN SNARE just before the naming
ceremony in Odense on February 25, 2005.
(Photo: Royal Danish Navy)

- Do you have photos
or other information on this ship?
Are you able to contribute to the unfolding of the Danish Naval History,
please e-mail me, enclosures are welcome.
Please remember to list your sources.
You can also use the Naval Web Forum on this web-site.


-
-
This page was last updated: August 16, 2008
This page was first published: March 1, 2005