Edited and
Designed by:

FLYVEFISKEN
(1989-2008)
(In English: The Flying Fish)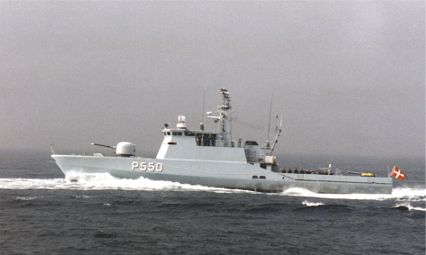 FLYVEFISKEN is here seen in the surveillance configuration.
(Photo: Royal Danish Navy)
-
-
Specifications

Built by:

DANYARD, Aalborg (The hull was molded at Karlskrona Varvet, Sweden)

Design:

Naval Material Command

Laid down:

August 15, 1985

Launched:

April 26, 1996

Commissioned:

December 19, 1989

Decommissioned:

May 30, 2008

Pennant Number:

P550

Int'l Call Sign:

OVDA

Displacement:

450 tons

Dimensions:

Length:

Beam:

Draught:

-

(LOA) 54.00 m
(LWL) 50.00 m

9.00 m

Norm 2.60 m
Max. 3.00 m

Complement:

19-29 men, depending on configuration

Propulsion:

1 ea General Electric Gas Turbines 5,680 Hp
2 ea MTU Diesel Engines 5,440 Hp
3 ea Rexroth Aux. Engines
1 ea Bowthruster
3 ea Propellers

Range:

2,400 nautical miles at 18 knots

Armament:

1 ea 76 mm Gun Mk M/85 LvSa (all versions)
2 ea 12.7 mm Heavy Machine Gun M/01 LvSa

Further (depending on task):

4 ea Harpoon SSM (2x2) or
8 ea Harpoon SSM (2x4) and
1 ea Sea Sparrow SAM VLS Mk.48 Mod.0 (1x6)

or

2 ea Sea Sparrow SAM VLS Mk.48 Mod.0 (2x6)

Extraordinary:

1 ea VDS (Variable Depth Sonar)
4 ea Anti Submarine Torpedoes MU-90 M/04 (2x2)

or

60 mines (max 60 tons)

Previously also:

2 ea 533 mm Torpedo Tubes (2x1)

Speed:

+30 knob (gas turbines) / 20 knob (diesels)
History

Date:

Military Service:

June 17, 1988

Adoption by Næstved Community

May 30, 2008

Decommissioned and handed over to the Lithuanian Navy
-
Commanders

Date:

Commanding Officer:

-

n/a
-
Notes
The Patrol Vessels of the FLYVEFISKEN Class, also named as the Standard Flex 300 type, is capable of switching between several rolls/configurations by a planned container system.
The different containers will make it possible to change the role of the ship from a clean surveillance role to a guided missile vessel or Mine Hunter within hours.
-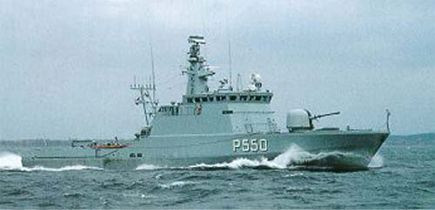 FLYVEFISKEN is here seen in the surveillance configuration.
(Photo: Royal Danish Navy)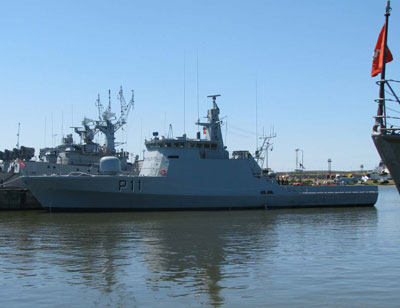 The former Danish patrol vessel FLYVEFISKEN, now named ZEMAITIS seen here after arriving the naval base in Klaipeda, Lithuania.
(Photo: The Lithuanian Navy)
Sources:

&

Flådens skibe og fartøjer 1945-1995, by Gunnar Olsen and Svenn Storgaard, Marinehistoriske skrifter, Copenhagen 1998 (ISBN 87-87720-13-2)

44You are also referred to the Naval Bibliography

- Do you have photos
or other information on this ship?
Are you able to contribute to the unfolding of the Danish Naval History,
please e-mail me, enclosures are welcome.
Please remember to list your sources.
You can also use the Naval Web Forum on this web-site.


-
-
This page was last updated: August 16, 2008
This page was first published: March 17, 2005