Edited and
Designed by:

GALATHEA

(1949-1954)

(In English: n/a)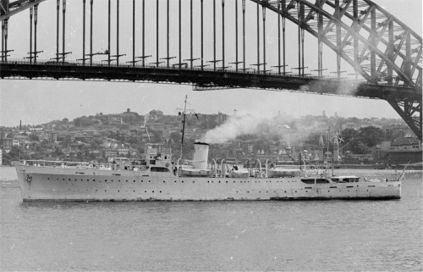 The Danish Survey Ship GALATHEA passing Sydney Harbor Bridge, 1951,
during its world wide deep sea expedition.
(Photo: Royal Danish Naval Museum)
-
Classification

Type:

Survey Ship, ex. British Frigate/Sloop

Class:

ex. British GRIMSBY Class

Other Ships
in Class:

n/a
-
Specifications

Built by:

HM Naval Dockyard, Devonport, England

Design:

n/a

Laid down:

February 6, 1933

Launched:

September 9, 1933

Commissioned:

August 26, 1949

Decommissioned:

December 1, 1954

Pennant Number:

A549 (ex. L46 - HMS LEITH)

Int'l Call Sign:

OUGJ

Displacement:

1,500 tons

Dimensions:

Length:

Beam:

Draught:

-

81.34 m

10.98 m

3.05 m

Complement:

88 men (12 officers and 76 ratings), and 6-14 civilians during its deep sea expedition

Propulsion:

2 Boilers 2,000 Hp
2 Propellers

Range:

3,500 nautical miles at 8 knots

Armament:

3 ea 57 mm Guns (saluting)

Speed:

16 knots
History

Date:

Military Service:

November 1934
- august 1939

In the New Zealand Naval Unit

November 25, 1946

Sold by the Royal Navy for civilian service

1947

Named BYRON of Panama

1948

Sold to the Danish part of the World Friendship Association and named FRIENDSHIP

August 26, 1949

Bought by the Danish Naval Department to be used for a planned deep sea expedition

September 4, 1950
- September 16, 1950

Sea trials

October 15, 1950
- June 19, 1952

On a 2 years deep sea mission circum navigating the world.

1954

Sold for scrap, towed from Copenhagen January 19, 1955
-
Commanders

Date:

Commanding Officer:

September 1, 1950
- February 13, 1951

Commander s.g. C. H. A. Madsen

February 13, 1951
- July 17, 1952

Captain S. B. V. J. Greve
-
Notes
In April, 1954, plans were made to refit the ship as Headquarter for the Coastal Command. The plan was not accomplished.
-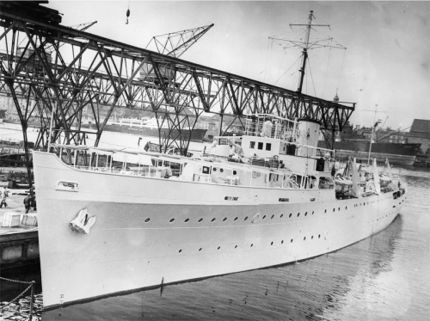 The Survey Ship GALATHEA at the Naval Dockyard, Copenhagen
(Photo: Royal Danish Naval Museum)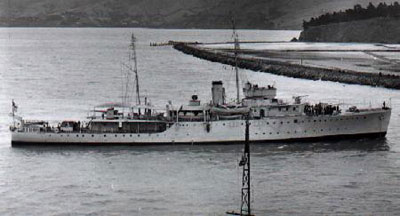 HMS LEITH during wartime service 1941 or 1942.
(Unknown photographer)
Sources:

&

Danske Søofficerer 1933-1982, edited by S. E. Pontoppidan and J. Teisen, published by Søe-Lieutenant-Selskabet, Copenhagen, 1984

&

Flådens skibe 1950, by R. Steen Steensen, Det Schønbergske Forlag, Copenhagen, 1950

&

Flådens skibe og fartøjer 1945-1995, by Gunnar Olsen and Svenn Storgaard, Marinehistoriske skrifter, Copenhagen 1998 (ISBN 87-87720-13-2)

44You are also referred to the Naval Bibliography

- Do you have photos
or other information on this ship?
Are you able to contribute to the unfolding of the Danish Naval History,
please e-mail me, enclosures are welcome.
Please remember to list your sources.
You can also use the Naval Web Forum on this web-site.


-
-