Edited and
Designed by:

-
Classification

Type:

Submarine

Class:

Other Ships
in Class:
-
Specifications

Built by:

The Naval Dockyard, Copenhagen

Design:

n/a

Laid down:

September 12, 1936

Launched:

November 6, 1937

Commissioned:

May 6, 1939

Decommissioned:

July 7, 1950

Pennant Number:

H2

Int'l Call Sign:

OUAC

Displacement:

335 tons - surface
407 tons - submerged

Dimensions:

Length:

Beam:

Draught:

-

47.45 m

4.65 m

2.84 m

Complement:

25 men

Propulsion:

2 ea B & W Diesel engines 1.200 Hp
2 ea Brown Boveri Electro engines 450 Hp
2 ea Propellers

Range:

n/a

Armament:

2 ea 40 mm Guns (After 1940 only 1 ea)
2 ea 8 mm Machineguns
5 ea 452 mm torpedo tubes (3 fore and 2 aft)

Speed:

15.3 knots - surface
7.2 knob - submerged
History

Date:

Military Service:

August 29, 1943

Scuttled at Holmen by its own crew, later salvaged by the Germans, but not used

1946

A planned repair was cancelled due to the high cost

November 18, 1950

Offered for sale

December 1950

Sold for scrapping
-
Commanders

Date:

Commanding Officer:

-

n/a
-
-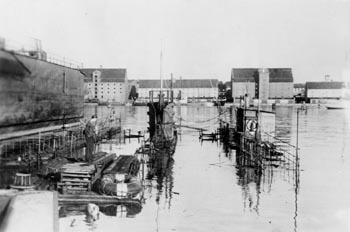 The submarine HAVFRUEN scuttled together with the floating dock
at Holmen on August 29, 1943.
(Photo: Archives of the Royal Danish Naval Museum)
Sources:

&

Da Danmarks Flaade blev sænket, by F. H. Kjølsen, Commander s.g., H. Hagerups Forlag, Copenhagen, 1945

&

Flådens skibe og fartøjer 1945-1995, by Gunnar Olsen and Svenn Storgaard, Marinehistoriske skrifter, Copenhagen 1998 (ISBN 87-87720-13-2)

&

U-både gennem 75 år - Det danske ubådsvåben 1909-84, by Hans Chr. Bjerg, Hans Chr. Dahlerup Koch and P. B. Nielsen, Forlaget Forum, 1984

&

Vore orlogsskibe fra halvfemserne til nu, by Kay Larsen, Nyt Nordisk Forlag/Arnold Busck, 1932

&

Vore Undervandsbåde gennem 50 år (1909-1959), by Commander s.g. R. Steen Steensen, Marinehistorisk Selskabs Skrift no. 5, forlaget Ejnar Munksgaard, 1960

44You are also referred to the Naval Bibliography

- Do you have photos
or other information on this ship?
Are you able to contribute to the unfolding of the Danish Naval History,
please e-mail me, enclosures are welcome.
Please remember to list your sources.
You can also use the Naval Web Forum on this web-site.


-
-