Edited and
Designed by:

HJÆLPEREN

(1953-1974)

(In English: The Assistant)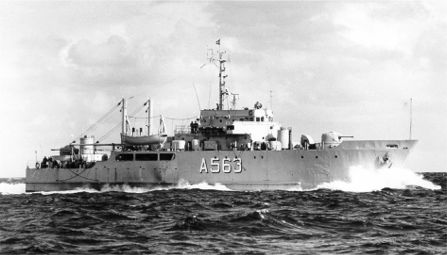 Tender HJÆLPEREN is here seen after the 1966-67 conversion.
(Photo: Royal Danish Navy)
-
Classification

Type:

Tender for Fast Patrol Boats (FPB's) or Motor Torpedo Boats (MTB's)

Class:

n/a

Other Ships
in Class:

n/a
-
Specifications

Built by:

Brown Shipbuilding Company, Houston, Texas, USA

Design:

n/a

Laid down:

March 17, 1945

Launched:

April 7, 1945

Commissioned:

May 15, 1953

Decommissioned:

August 1974

Pennant Number:

A563

Int'l Call Sign:

OUGC

Displacement:

1,030 tons

Dimensions:

Length:

Beam:

Draught:

-

64.26 m

10.92 m

2.41 m (fore)
1.98 m (aft)

Complement:

102 men (10 officers and 92 petty officers and privates)

Propulsion:

2 x GMC Cleveland diesel engines 2,880 Hp
2 screws

Range:

3,500 nautical miles at 12 knots

Armament:

2 ea 40 mm Machine Gun Mk M/36 LvSa2 (2x2)

After 1958:

2 ea 40 mm Machine Gun Mk M/48 LvSa (2x1)

Speed:

12.33 knots
History

Date:

Military Service:

1960

Together with MTB's of the 11th Torpedo Boat Squadron the tender took part in a Danish movie

1966-1967

Modernized at the Royal Naval Dockyard, Copenhagen

1971-1972

Converted and modernized at the Svendborg Ship Yard
-
Commanders

Date:

Commanding Officer:

-

n/a
-
Notes
Build as an US Landing Ship (LSM-500), converted at the Naval Ship Yard, Charleston, USA in 1953
Delivered as the first ship of the military arms program (MDAP). Later came the sister ships, the mine layers BESKYTTEREN and VINDHUNDEN
Towed away from Naval Base Copenhagen in 1976. In 1977-1978 the ship were seen at the Pounds Marine Shipping, Portsmouth, England. In March 1979 it was at the Husbands Shipyard, Marchwood, England. - Presumed scrapped.
-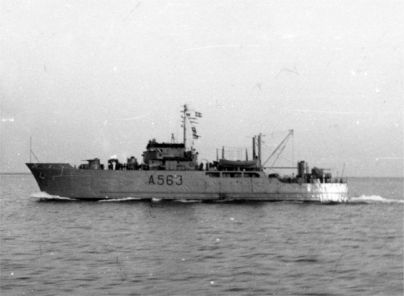 HJÆLPEREN before the 1966/1967 conversion.
(Photo: Archives of the Royal Danish Naval Museum)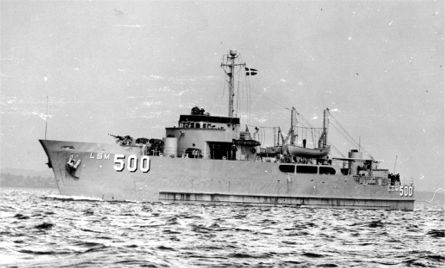 HJÆLPEREN shortly after delivery to the Royal Danish Navy and still showing
the original US pennant number LSM 500.
(Photo: Archives of the Royal Danish Naval Museum)
Sources:

&

Flådens skibe og fartøjer 1945-1995, by Gunnar Olsen and Svenn Storgaard, Marinehistoriske skrifter, Copenhagen 1998 (ISBN 87-87720-13-2)

44You are also referred to the Naval Bibliography

- Do you have photos
or other information on this ship?
Are you able to contribute to the unfolding of the Danish Naval History,
please e-mail me, enclosures are welcome.
Please remember to list your sources.
You can also use the Naval Web Forum on this web-site.


-
-