Edited and
Designed by:

-
Classification

Type:

Submarine

Class:

Other Ships
in Class:
-
Specifications

Built by:

The Naval Dockyard, Copenhagen

Design:

n/a

Laid down:

March 31, 1917

Launched:

August 16, 1918

Commissioned:

September 7, 1920

Decommissioned:

August 22, 1946

Pennant Number:

C1

Int'l Call Sign:

GSHD, after January 1, 1934: OVAS

Displacement:

301 tons - surface
369 tons - submerged

Dimensions:

Length:

Beam:

Draught:

-

47.50 m

4.77 m

2.70 m

Complement:

17 men (Wartime crew: 24 men)

Propulsion:

2 stk. B & W Diesel Engines - 900 Hp
2 ea Titan Electro Engines - 640 Hp
2 ea Propellers

Range:

n/a

Armament:

5 ea 452 mm Torpedo tubes (3 fore, 1 aft and 1 in the conning tower)
1 ea 57 mm Anti Aircraft Gun

Speed:

14.2 knots - surface
10.5 knots - submerged
History

Date:

Military Service:

1920

Together with the submarine BELLONA to Stockholm, Sweden

1924

On tour to England and the Faeroe Islands together with the submarines FLORA and BELLONA

1925

In the Squadron with the light cruiser NIELS IUEL, the cruisers HEJMDAL and GEJSER, mine ship LOSSEN, to other subs and 3 torpedo boats on exercises in the Baltic, visiting Helsinki, Reval and Riga

1926

On tour to Amsterdam, Holland together with the submarines FLORA and BELLONA

1926

On a visit to Halmstad, Sweden as part of the Submarine Flotilla, consisting of the submarines BELLONA, ROTA, FLORA, TRITON, GALATHEA, NEPTUN and RAN.

1935

Transferred to the naval reserve

August 29, 1943

Scuttled by its own crew at Holmen

1952

Sold for scrapping
-
Commanders

Date:

Commanding Officer:

1924

Lieutenant Commander S. H. Rolsted

1925

Lieutenant Commander E. Kofoed-Hansen

1943

Lieutenant Jørgen Petersen
-
Notes
During a submarine exercise in 1926 the sub had a collision with the light cruiser HEJMDAL. As the sub realized the situation, it surfaced immediately. Both ships reversed the engines and managed to slow down; there were only minor damages to the ships.
-
ROTA is here seen enroute through the Kieler channel.
(Photo: Archives of the Royal Danish Naval Museum)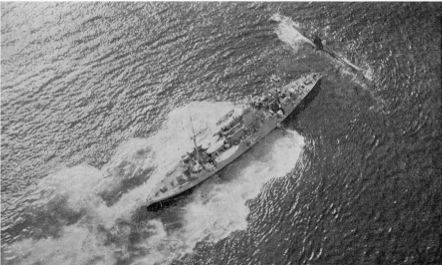 The collision between the light cruiser HEJMDAL and ROTA is here seen from above. - The sub has surfaced and borth ships are on full reverse.
(Photo: Archives of the Royal Danish Naval Museum)
Sources:

&

Da Danmarks Flaade blev sænket, by F. H. Kjølsen, Commander s.g., H. Hagerups Forlag, Copenhagen, 1945

&

Flådens skibe og fartøjer 1945-1995, by Gunnar Olsen and Svenn Storgaard, Marinehistoriske skrifter, Copenhagen 1998 (ISBN 87-87720-13-2)

&

U-både gennem 75 år - Det danske ubådsvåben 1909-84, by Hans Chr. Bjerg, Hans Chr. Dahlerup Koch and P. B. Nielsen, Forlaget Forum, 1984

&

Vore orlogsskibe fra halvfemserne til nu, by Kay Larsen, Nyt Nordisk Forlag/Arnold Busck, 1932

&

Vore Undervandsbåde gennem 50 år (1909-1959), by Commander s.g. R. Steen Steensen, Marinehistorisk Selskabs Skrift no. 5, forlaget Ejnar Munksgaard, 1960

44You are also referred to the Naval Bibliography

- Do you have photos
or other information on this ship?
Are you able to contribute to the unfolding of the Danish Naval History,
please e-mail me, enclosures are welcome.
Please remember to list your sources.
You can also use the Naval Web Forum on this web-site.


-
-