Edited and
Designed by:

| | | | |
| --- | --- | --- | --- |
| Data Sheet | Photo Album | - | - |
127 mm K M/60
LvSa2 (1966-1990)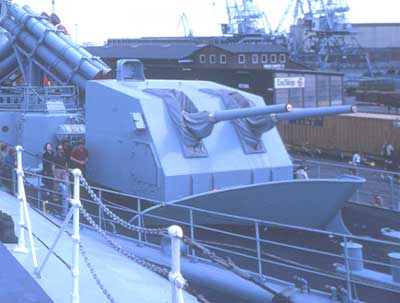 The 127 mm Gun K M/60 LvSa2 mounted on the frigate PEDER SKRAM,
notice the HARPOON SSM launchers just aft of the turret, originally the frigates were also equipped with an additional twin 127 mm turret in the "B"-position.
(Photo: Karsten Petersen)
-
General Specification:

Danish Apellation:

127 mm Gun K M/60 LvSa2

Type of Origin:

5"/38 Gun Mark 12 in Twin Mount Mark 38

Primary Function:

Air and sea target, coastal bombardment

Caliber:

127 mm

Muzzle Velocity:

760 m/sec.

Maximum Range:

16,000 m at 45 degrees

Maximum Ceiling:

11,000 m

Weight of Projectile:

24 kilos

Ammunition Types:

Charge and shell

Elevation:

-15 degrees/+85 degrees

Lateral Elevation Speed:

25 degrees/sec.

Vertical Elevation Speed:

15 degrees/sec.

Rate of Fire:

18 rounds/min.

Gun/Mounting:

Semi automatic remote controlled gun in twin mounting

Fire Control:

n/a

Country of Origin:

USA
-
-
Weapon or Weapon System in use or used on:

Ship or Class:

Number:

In Service:

PEDER SKRAM Class, frigates (2)

1 [1]

1966-1990
-
Notes:

[1]

The frigates were originally equipped with to twin turrets, bu the "B"-turret was removed upon installation of HARPOON SSM launchers.

- Do you have photos or other information
on this weapon or weapon system?
Are you able to contribute to the unfolding of the Danish Naval History,
please e-mail me, enclosures are welcome.
Please remember to list your sources.
You can also use the Naval Web Forum on this web-site.


-
-