Edited and
Designed by:

| | | | |
| --- | --- | --- | --- |
| Data Sheet | Photo Album | - | - |
75 mm K M/07-12
Sa (1935-1960)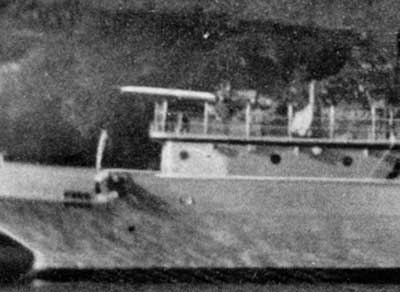 The 75 mm gun here on the surveying ship HEJMDAL.
(Photo: Archives of the Royal Danish Naval Museum)
-
General Specification:

Danish Apellation:

75 mm Kanon M/02-12 Sa [1]

Type of Origin:

75 mm Kanon M/02-12 Sa [1]

Primary Function:

Sea targets

Caliber:

75 mm

Muzzle Velocity:

790 m/sec.

Maximum Range:

9,000 m at 19 degrees elevation

Maximum Ceiling:

n/a

Weight of Projectile:

7 kilos

Ammunition Types:

Shell

Elevation:

-10 degrees/+30 degrees

Lateral Elevation Speed:

n/a

Vertical Elevation Speed:

n/a

Rate of Fire:

16 rounds/min.

Gun/Mounting:

Manual controlled gun in a single mount

Fire Control:

n/a

Country of Origin:

Denmark
-
-
Weapon or Weapon System in use or used on:

Ship or Class:

Number:

In Service:

2

1946 - 1959

THETIS, corvette

1

1948 - 1951

2

1935 - 1960

VITUS BERING, offshore patrol vessel

1

1948 - 1950
-
Notes:

[1]

First aquired as anti torpedoboat guns to the coastal defense ship PEDER SKRAM and later used on several other vessels. The gun was found in two versions, the M/02 and M/12.

[2]

The minelayer LINDORMEN was original equipped with two guns, but one was dismantled in 1951.

[3]

The surveyong ship HEJMDAL was original equipped with two guns, but one was temporary removed 1945-1947, and finally dismantled 1952.

- Do you have photos or other information
on this weapon or weapon system?
Are you able to contribute to the unfolding of the Danish Naval History,
please e-mail me, enclosures are welcome.
Please remember to list your sources.
You can also use the Naval Web Forum on this web-site.


-
-