| | | | |
| --- | --- | --- | --- |
| Data Sheet | Photo Album | - | - |
76 mm K M/36
Sa (1947-1953)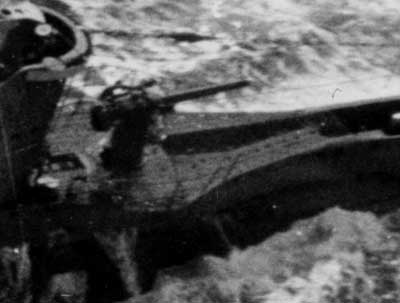 The British 76 mm gun on the submarine U 1 (SPRINGEREN).
(Photo: Archives of the Royal Danish Naval Museum)
-
General Specification:

Danish Apellation:

76 mm Gun K M/36 Sa

Before 1952:

76 mm PK L/47 M/36

Type of Origin:

3 inch Quick Firing Gun Mark I in Center Pivot Mount Mark V

Primary Function:

Sea targets

Caliber:

76 mm

Muzzle Velocity:

610 m/sec.

Maximum Range:

11,810 m at 40 degrees elevation

Maximum Ceiling:

n/a

Weight of Projectile:

8.16 kilos

Ammunition Types:

Shell

Elevation:

-10 degrees/+40 degrees

Lateral Elevation Speed:

n/a

Vertical Elevation Speed:

n/a

Rate of Fire:

13 rounds/min.

Gun/Mounting:

Manual controled gun in single mount

Fire Control:

n/a

Country of Origin:

Great Britain
-
-
Weapon or Weapon System in use or used on:

Ship or Class:

Number:

In Service:

U Class, submarines (SPRINGEREN Class) (3)

1

1947 - 1953
-

- Do you have photos or other information
on this weapon or weapon system?
Are you able to contribute to the unfolding of the Danish Naval History,
please e-mail me, enclosures are welcome.
Please remember to list your sources.
You can also use the Naval Web Forum on this web-site.