Photo Album:
Support Ships in a Line-Up (2005)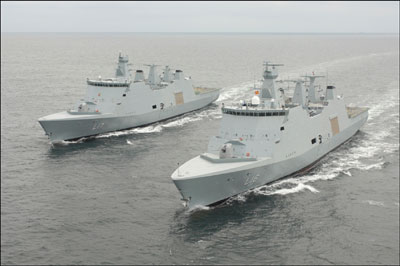 The command and supports ships L16 ABSALON (right)
and L17 ESBERN SNARE (left) in a joined exercise.
(Photo: Royal Danish Navy)
During the fall of 2005 the newly built and largest Danish naval vessels, the command and support ships ABSALON and ESBERN SNARE were joined for the first time in a combined exercise.
Watching these pictures, please notice that the command and support ships will not be fully operational before 2007, whereas electronic equipment and armament are not fully implemented.
Click on the large photo above to enlarge and start the serie, or pick a picture from the survey below, and click to enlarge.
-
-

- Do you miss a major event on this Site,
or do you hold a great story?
Are you able to contribute to the unfolding of the Danish Naval History,
please e-mail me, enclosures are welcome.
Please remember to list your sources.
You can also use the Naval Web Forum on this web-site.