Photo Album:
Mother of Tsar makes her
last Voyage on board the
RDN ESBERN SNARE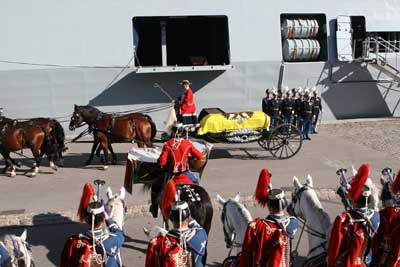 The empress' coffin arrives at Langelinie where it will be taken on board the command and support ship ESBERN SNARE.
(Photo: Johnny E. Balsved)
On Saturday, September 23, the coffin with the remains of Danish born prinsess Dagmar, the later Russian empress Maria Fyodorovna, was taken on board the RDN ESBERN SNARE to be brought back to Russia.
The empress' last wish was to be buried in St. Petersburg next to her husband, Tsar Alexander III.
This last wish came through after lengthy negotiations on the terms of the transfer, a project championed by the Russian President Putin, who has tried to rehabilitate some of the icons of the imperial past.
ESBERN SNARE departed Copenhagen immediately after the coffin was taken aborad an is due to arrive in St. Petersburg on September 26, exactly 140 years after Prinsess Dagmar first arrived to Russia.
Click on the large photo above to enlarge and start the collection, or pick a picture from the survey below, and click to enlarge.
-
-

- Do you miss a major event on this Site,
or do you hold a great story?
Are you able to contribute to the unfolding of the Danish Naval History,
please e-mail me, enclosures are welcome.
Please remember to list your sources.
You can also use the Naval Web Forum on this web-site.