Photo Album:
The EH-101 Helicopter makes its first Landing on the Command and
Support Ship ESBERN SNARE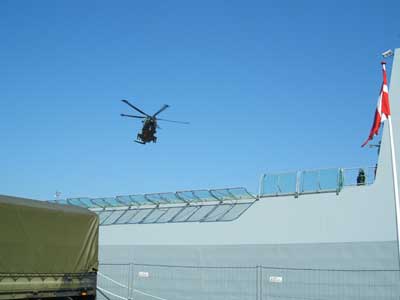 The Agusta Westland EH-101 Merlin Joint Supporter makes its first landing
on the command and support ship ESBERN SNARE.
(Photo: Commander Christer Andrč Storsveen, RDN)
The newly delivered 14 Agusta Westland EH-101 helicopters are now being made operational in the Royal Danish Air Force. Pilots and mechanics undergoing intesive on-the-job training.
Mid September it was scheduled to have the Merlin Joint Supporter make its first landing on the command and support ship ESBERN SNARE. The ship was visiting Aarhus at the time of the event, and according to the released pictures, all went well during this first landing.
The Command and Support ships of the ABSALON Class have hangar and support facilities for two EH-101 sized helicopters, and are intended to carry one or two EH-101 helicopters in the TTT-version (Tactical Troop Trans-porter) during participation in international operations.
Click on the large photo above to enlarge and start the collection, or pick a picture from the survey below, and click to enlarge.
-
-

- Do you miss a major event on this Site,
or do you hold a great story?
Are you able to contribute to the unfolding of the Danish Naval History,
please e-mail me, enclosures are welcome.
Please remember to list your sources.
You can also use the Naval Web Forum on this web-site.