Edited and
Designed by:

DELFINEN Class
(1961-1990)
(In English: The Dolphin Class)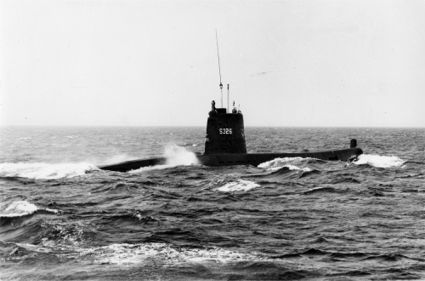 The submarine DELFINEN, the first of the four subs of the DELFINEN Class.
(Photo: Archives of the Royal Danish Naval Museum)
-
Classification

Type:

Submarines

Class:

DELFINEN Class
-
Units in Class

PT No.:

Name:

Launched:

Comm.:

Decomm.:

S326

05/04/1956

08/01/1961

08/02/1983

S327

02/20/1957

08/01/1961

07/31/1989

S328

05/22/1958

08/01/1961

08/06/1981

S329

04/22/1963

10/22/1964

03/31/1990
-
Comments to the Class
The last built purely Danish designed submarine class.
The first three subs were financed by Denmark, and the fourth sub SPRINGEREN was financed by the US under the Cost Share program.
-
Specifications

Built by:

The Naval Dockyard, Copenhagen

Design:

The Naval Dockyard, Copenhagen, project UB51

Displacement:

573 tons - surface (SPRINGEREN 581 tons)
649 tons - submerged

Dimensions:

Length:

Beam:

Draught:

53.90 m

4.70 m

4.00 m

Complement:

33 men (7 officers, and 26 ratings and enlisted)

Propulsion:

2 ea B&W Diesel engines 1,200 Hp
2 ea BBC Electro engines 2,100 Hp
2 ea Propellers

Range:

4,000 nautical miles at 8.5 knots

Armament:

4 ea 533 mm Torpedo tubes, fore (8 torpedoes totally)

Speed:

13.5 knots - surface
16.0 knots - submerged
-
Sources:

&

Flådens skibe og fartøjer 1945-1995, by Gunnar Olsen and Svenn Storgaard, Marinehistoriske skrifter, Copenhagen 1998 (ISBN 87-87720-13-2)

&

U-både gennem 75 år - Det danske ubådsvåben 1909-84, by Hans Chr. Bjerg, Hans Chr. Dahlerup Koch and P. B. Nielsen, Forlaget Forum, 1984

44You are also referred to the Naval Bibliography

- Do you have photos
or other information on this ship?
Are you able to contribute to the unfolding of the Danish Naval History,
please e-mail me, enclosures are welcome.
Please remember to list your sources.
You can also use the Naval Web Forum on this web-site.


-
-