Edited and
Designed by:

-
Classification

Type:

Submarines

Class:

NARHVALEN Class
-
Units in Class

PT No.:

Name:

Launched:

Comm.:

Decomm.:

S320

09/10/1968

02/27/1970

10/16/2003

S321

12/18/1969

12/22/1970

02/02/2004
-
Comments to the Class
Built in accordance with the German specifications and almost identical to the German type 205, but modified to meet special Danish demands.
The two Danish submarines were built using magnetic steel due to the fact, that the anti magnetic steel used in the type 205 subs had shown not to satisfactory.
After 1994 the two subs were modified to bring the technical performance similar to those of the "new" TUMLEREN Class.
-
Specifications

Built by:

The Naval Dockyard, Copenhagen

Design:

Ingenieurkontor Lübeck, Germany

Displacement:

453 tons
509 tons - submerged

Dimensions:

Length:

Beam:

Draught:

44.0 m

4.55 m

3.98 m

Complement:

19 - 21 men (6 officers and 13 ratings and enlisted)

Propulsion:

2 ea MTU Diesel Engines 1,100 Hp
1 ea Siemens Electro Engines 1,500 Hp
1 ea Propeller

Range:

n/a

Armament:

8 ea 533 mm Torpedo Tubes

Speed:

10 knots - surface
17 knots - submerged
Additional Notes
The NARHVALEN Class became the last ships to be built at the Naval Dockyard in Copenhagen.
-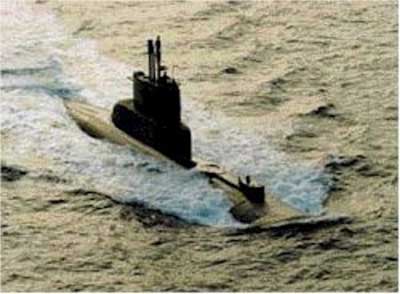 The submarine NARHVALEN.
(Photo: Royal Danish Navy)
Sources:

&

Flådens skibe og fartøjer 1945-1995, by Gunnar Olsen and Svenn Storgaard, Marinehistoriske skrifter, Copenhagen 1998 (ISBN 87-87720-13-2)

44You are also referred to the Naval Bibliography

- Do you have photos
or other information on this ship?
Are you able to contribute to the unfolding of the Danish Naval History,
please e-mail me, enclosures are welcome.
Please remember to list your sources.
You can also use the Naval Web Forum on this web-site.


-
-
This page was last updated: February 11, 2005
This page was first published: October 18, 2003