Edited and
Designed by:

NORDKAPEREN
(1970-2004)
(In English: n/a)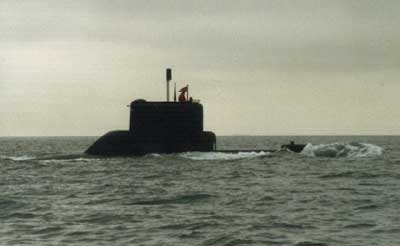 The submarine NORDKAPEREN.
(Photo: Royal Danish Navy)
-
Classification

Type:

Submarine

Class:

Other Ships
in Class:

S320 NARHVALEN (1970-2002)
-
Specifications

Built by:

The Naval Dockyard, Copenhagen

Design:

Ingenieurkontor Lübeck, Germany

Laid down:

4. marts 1966

Launched:

December 18, 1969

Commissioned:

December 22, 1970

Decommissioned:

February 2, 2004

Pennant Number:

S321

Int'l Call Sign:

OUCH

Displacement:

453 tons
509 tons - submerged

Dimensions:

Length:

Beam:

Draught:

-

44.0 m

4.55 m

3.98 m

Complement:

19 - 21 men (6 officers and 13 ratings and enlisted)

Propulsion:

2 ea MTU Diesel Engines 1,100 Hp
1 ea Siemens Electro Engines 1,500 Hp
1 ea Propeller

Range:

n/a

Armament:

8 ea 533 mm Torpedo Tubes

Speed:

10 knots - surface
17 knots - submerged
History

Date:

Military Service:

August 22, 1974

During exercises in the North Atlantic, NORDKAPEREN became the first Danish sub that crossed the Arctic Circle submerged

April 23, 1988

Adopted by Mariager
-
Commanders

Date:

Commanding Officer:

November 4, 1970
- September 1, 1971

Lieutenant Commander Peer C. Rasmussen
-
Notes
NORDKAPEREN became the last ship ever to be built at the Naval Dockyard in Copenhagen.
Sources:

&

Danske Søofficerer 1933-1982, edited by S. E. Pontoppidan and J. Teisen, published by Søe-Lieutenant-Selskabet, Copenhagen, 1984

&

Flådens skibe og fartøjer 1945-1995, by Gunnar Olsen and Svenn Storgaard, Marinehistoriske skrifter, Copenhagen 1998 (ISBN 87-87720-13-2)

44You are also referred to the Naval Bibliography

- Do you have photos
or other information on this ship?
Are you able to contribute to the unfolding of the Danish Naval History,
please e-mail me, enclosures are welcome.
Please remember to list your sources.
You can also use the Naval Web Forum on this web-site.


-
-
This page was last updated: March 28, 2005
This page was first published: October 18, 2003