Edited and
Designed by:

U2

- STØREN

(1947-1959)




(In English: n/a)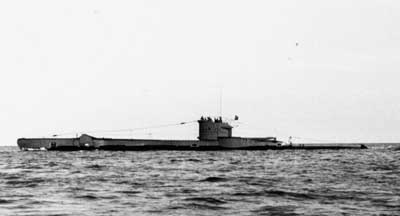 The sub U 2 (STØREN) is seen here after the deck gun was removed in 1953.
(Photo: Royal Danish Navy)
-
Classification

Type:

Submarine

Class:

U Class, later SPRINGEREN Class

Other Ships
in Class:

Submarine U 1/SPRINGEREN (1947-1957)
Submarine U 3/SÆLEN (1947-1958)
-
Specifications

Built by:

Vickers-Armstrongs (Walker), England

Design:

n/a

Laid down:

November 18, 1942

Launched:

December 28, 1943

Commissioned:

September 19, 1947 - ex. HMS VULPINE

Decommissioned:

January 29, 1959

Pennant Number:

U2, from 1951: S322 (never used)

Int'l Call Sign:

OUCC

Displacement:

662 tons, 735 tons (submerged)

Dimensions:

Length:

Beam:

Draught:

-

62.80 m

4.90 m

4.50 m

Complement:

36 men

Propulsion:

2 ea Davey Paxman diesel engines - 800 Hp
2 ea Electro engines - 760 Hp
2 ea Propellers

Range:

n/a

Armament:

1 ea 76 mm Gun K M/36 Sa (removed after 1953)
3 ea 7,7 mm Machine guns (later removed)
4 ea 533 mm Torpedo tubes (fore) (totally 8 torpedoes)

- a number of mines could be carried in stead of torpedoes

Speed:

Surface: 13 knots
Submerged: 9 knots
History

Date:

Military Service:

September 1946

Arrived at Holmen

September 19, 1947

Commissioned with the Royal Danish Navy

April 1, 1951

Baptized STØREN and issued the pennant no. S322

1953

Major modification, equipped with a snorkel and the deck gun removed

1959

Returned to Great Britain and scrapped
-
Commanders

Date:

Commanding Officer:

-

n/a
-
-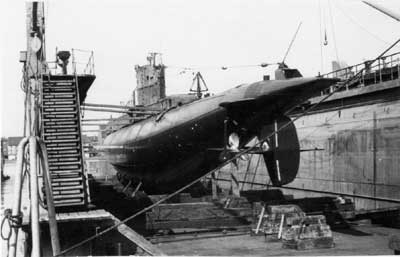 U 2 (STØREN) in the floating doc at the Naval Dockyard in Copenhagen.
(Photo: Royal Danish Navy)
Sources:

&

Flådens skibe 1950, by R. Steen Steensen, Det Schønbergske Forlag, Copenhagen, 1950

&

Flådens skibe og fartøjer 1945-1995, by Gunnar Olsen and Svenn Storgaard, Marinehistoriske skrifter, Copenhagen 1998 (ISBN 87-87720-13-2)

&

U-både gennem 75 år - Det danske ubådsvåben 1909-84, by Hans Chr. Bjerg, Hans Chr. Dahlerup Koch and P. B. Nielsen, Forlaget Forum, 1984

&

Vore Undervandsbåde gennem 50 år (1909-1959), by Commander s.g. R. Steen Steensen, Marinehistorisk Selskabs Skrift no. 5, forlaget Ejnar Munksgaard, 1960

44You are also referred to the Naval Bibliography

- Do you have photos
or other information on this ship?
Are you able to contribute to the unfolding of the Danish Naval History,
please e-mail me, enclosures are welcome.
Please remember to list your sources.
You can also use the Naval Web Forum on this web-site.


-
-
This page was last updated: March 11, 2005
This page was first published: October 19, 2003