Edited and
Designed by:

U3

- SÆLEN

(1947-1958)




(In English: The Seal)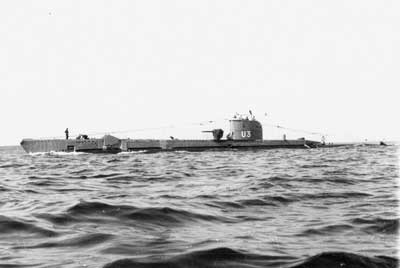 The submarine U 3 (SÆLEN).
(Photo: Royal Danish Navy)
-
Classification

Type:

Submarine

Class:

U Class, later SPRINGEREN Class

Other Ships
in Class:

Submarine U 1/SPRINGEREN (1947-1957)
Submarine U 2/STØREN (1947-1959)
-
Specifications

Built by:

Vickers-Armstrongs (Walker), England

Design:

n/a

Laid down:

August 13, 1943

Launched:

August 19, 1944

Commissioned:

February 18, 1947 - ex. French MORSE, ex. HMS VORTEX

Decommissioned:

January 16, 1958

Pennant Number:

U3, from 1951: S323 (never used)

Int'l Call Sign:

OUCD

Displacement:

662 tons, 735 tons (submerged)

Dimensions:

Length:

Beam:

Draught:

-

62.80 m

4.90 m

4.50 m

Complement:

36 men

Propulsion:

2 ea Davey Paxman diesel engines - 800 Hp
2 ea Electro engines - 760 Hp
2 ea Propellers

Range:

n/a

Armament:

1 ea 76 mm Gun K M/36 Sa (removed after 1953)
3 ea 7,7 mm Machine guns (later removed)
4 ea 533 mm Torpedo tubes (fore) (totally 8 torpedoes)

- a number of mines could be carried in stead of torpedoes

Speed:

Surface: 13 knots
Submerged: 9 knots
History

Date:

Military Service:

1944-

Serving with the Free French

October 17, 1946

Arrived at Holmen

February 18, 1947

Commissioned with the Royal Danish Navy

April 1, 1951

Baptized SÆLEN and issued the pennant no. S323

1954

Major modification, equipped with a snorkel and the deck gun removed

1958

Returned to Great Britain and scrapped
-
Commanders

Date:

Commanding Officer:

-

n/a
-
-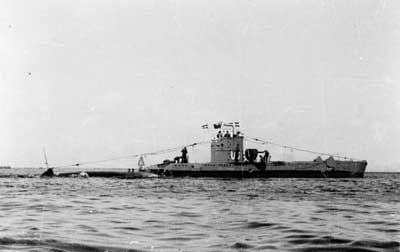 The submarine U 3 (SÆLEN).
(Photo: Royal Danish Navy)
Sources:

&

Flådens skibe 1950, by R. Steen Steensen, Det Schønbergske Forlag, Copenhagen, 1950

&

Flådens skibe og fartøjer 1945-1995, by Gunnar Olsen and Svenn Storgaard, Marinehistoriske skrifter, Copenhagen 1998 (ISBN 87-87720-13-2)

&

U-både gennem 75 år - Det danske ubådsvåben 1909-84, by Hans Chr. Bjerg, Hans Chr. Dahlerup Koch and P. B. Nielsen, Forlaget Forum, 1984

&

Vore Undervandsbåde gennem 50 år (1909-1959), by Commander s.g. R. Steen Steensen, Marinehistorisk Selskabs Skrift no. 5, forlaget Ejnar Munksgaard, 1960

44You are also referred to the Naval Bibliography

- Do you have photos
or other information on this ship?
Are you able to contribute to the unfolding of the Danish Naval History,
please e-mail me, enclosures are welcome.
Please remember to list your sources.
You can also use the Naval Web Forum on this web-site.


-
-
This page was last updated: March 11, 2005
This page was first published: October 19, 2003