Photo Album - Weblog:
VÆDDEREN en route on the
3rd Galathea Expedition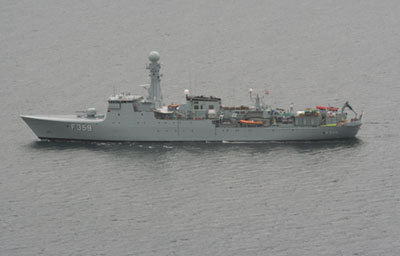 The Offshore Patrol Frigate VÆDDEREN is here seen refitted as an expeditionary vessel for the 3rd Galathea Expedtion with containers on the helodeck.
(Photo: Michael Lind, Island Command Faroes)
Friday August 11, 2006, at precisely 18:45 hours, VÆDDEREN, the offshore patrol frigate now temporary refitted as an expeditionary vessel, departed Copenhagen and began 8 months of circumnavigating the world as the main platform for a number of researchers, news gatheres etc.
The ship is fully equipped with modern communication systems enabling it to transmit news of natural sciense direct to clasrooms back in Denmark, as well as a number of students will be on board to make their own studies.
The 3rd Galathea Expediton is en route - after more than 6 years of inten-sive planning.
This Photo Album/Weblog will try to follow the VÆDDEREN en route, but as there was no room for this site's webmaster on board, everyone meeting the ship en route is most welcome to send pictures to this site.
Click on the large photo above to enlarge and start the collection, or pick a picture from the survey below, and click to enlarge.
-
-
4Half-way on the Galathea Expedition - 12/12/2006
4

3rd Galathea Expedition (2006-07) - 12/12/2006
43rd Galathea Expedition 2006-07 - 02/27/2006
4

VÆDDEREN refitted (2006) - 02/27/2006

- Do you miss a major event on this Site,
or do you hold a great story?
Are you able to contribute to the unfolding of the Danish Naval History,
please e-mail me, enclosures are welcome.
Please remember to list your sources.
You can also use the Naval Web Forum on this web-site.