Photo Album:
VÆDDEREN refitted for the 3rd Galathea Expediton (2006)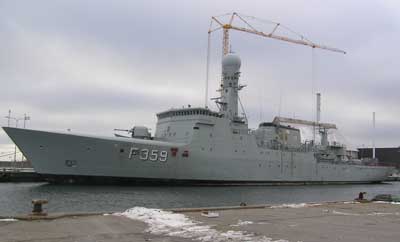 The offshore patrol frigate VÆDDEREN is being refitted (February 2006)
at the Karstensens Ship Yard in Skagen.
(Photo: Johnny E. Balsved)
The offshore patrol frigate VÆDDEREN will be the floating base for a number of Danish and foreign scientists and researchers when the third Galathea Expedition are planned to take place from August 2006 thru April 2007.
At this moment the VÆDDEREN resides at Karstensens Ship Yard in Skagen, Northern Jutland, to be refitted from being an active offshore patrol frigate to primarily a scientific platform.
Laboratories, store rooms and scientific equipment should be installed, and accomodations for the scientist, media people and students should be organized.
Click on the large photo above to enlarge and start the collection, or pick a picture from the survey below, and click to enlarge.
-
-
4Half-way on the Galathea Expedition - 12/12/2006
4

3rd Galathea Expedition (2006-07) - 12/12/2006
43rd Galathea Expedition 2006-07 - 02/27/2006
4

VÆDDEREN refitted (2006) - 02/27/2006

- Do you miss a major event on this Site,
or do you hold a great story?
Are you able to contribute to the unfolding of the Danish Naval History,
please e-mail me, enclosures are welcome.
Please remember to list your sources.
You can also use the Naval Web Forum on this web-site.