Photo Album:
HDMS ABSALON launched first Evolved Sea Sparrow Missile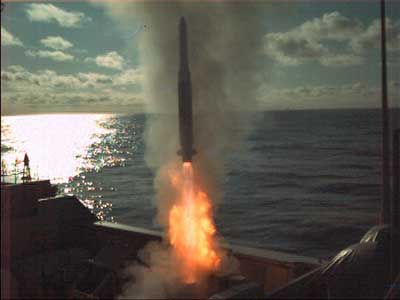 The Command and Support ship ABSALON launch an Evolved Sea Sparrow Missile for the first time.
(Photo: Danish Defense Acquisition and Logistics Organization)
Tuesday, April 15, at 1745 the Command and Support Ship HDMS ABSALON for the first time launched an ESSM (Evolved Sea Sparrow Missile). All aspects of the live firing evolved according to plan.
The test of the missile was carried out in the area west of the Hebrides. The target was a drone which came from land at a speed of 378 knots (700 km/h). This is the fastest drone any Danish unit has fired upon.
HDMS ABSALON air warning radar immediately acquired the target, the movements of which could then be followed whereupon the target was assigned and missile launched, with the target at a distance of 8km
After the vertical launch the missile turned towards the target, hit and destroyed the target drone at just over 6 km distance.
Click on the large photo above to enlarge and start the collection, or pick a picture from the survey below, and click to enlarge.
-
-
4

ABSALON launched ESSM (2008) - 06/15/2008
4CIWS fired for the first time - 11/16/2007
4ABSALON's First MU90 Topedo Shot - 08/21/2007
4ABSALON finally at sea - 08/18/2007
4ABSALON's completed profile - 07/12/2007
4Back to Russia - 09/24/2006
4ESBERN SNARE commissioned - 04/18/2005

- Do you miss a major event on this Site,
or do you hold a great story?
Are you able to contribute to the unfolding of the Danish Naval History,
please e-mail me, enclosures are welcome.
Please remember to list your sources.
You can also use the Naval Web Forum on this web-site.