Drones onboard THETIS:
Accident reveals use of Surveillance Drones off the Coast of Africa
The operation was strictly against current rules for use of the drone, which crashed, and has now disappeared.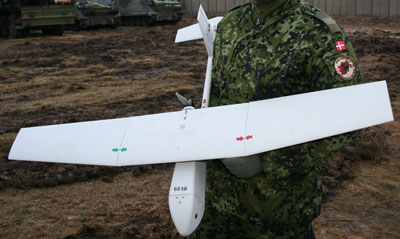 The RAVEN drone is an American-produced miniature unmanned aerial vehicle.
(Photo: Danish Army Operational Command)
By Johnny E. Balsved
When the Danish command ship THETIS headed south for the Horn of Africa on January 14, there were many, including navalhistory.dk, who were surprised that a Lynx helicopter had not been included in this important mission.
It's now become clear that the command ship had instead been discreetly equipped with the Danish military's latest surveillance drone, the RAVEN.
THETIS is currently deployed off the Horn of Africa, where she is escorting emergency relief ships chartered by the UN World Food Programme to deliver emergency aid to Somalia.
Two personnel sent home
As yet there's been no official admission that the ship was equipped with surveillance drones, but a single accident revealed their deployment.
According to the Admiral Danish Fleet Headquarters website (Søværnets Operative Kommando), the navy decided to send two personnel from THETIS back to Denmark after they had flown the surveillance drone over land, against current rules.
The two crew members decided last weekend, Saturday, March 8, to send the unmanned surveillance drone into an area approx 10km north-west of Mombasa.
This action was in direct contradiction of the current rules for use of the drone, which crashed, and has now disappeared.
The Danish Corps of Military Prosecutors (Auditørkorpset) has been requested to investigate the incident, and the crew members involved have since been returned to Denmark.
The RAVEN RQ-11 drone
The RAVEN RQ-11 drone is an American-produced miniature unmanned aerial vehicle, which can either be remote-controlled from the ground or fly autonomously following a pre-programmed route.
The drone has a 1.3 meter wingspan and weighs around 2 kilogram's. It's launched by hand and is powered by an electric motor, with an endurance of about an hour and a half and a speed of around 100 kmph.
Normally the drone is equipped with a digital video camera and an infrared camera, from which the images can be transmitted to a monitor.
The drone is used by, amongst others, the Danish Army in Afghanistan, and normally it's the Army who operate this type of drone. This might indicate that the two personnel who were returned to Denmark presumably were Army personnel, but it's not been possible to confirm this directly.
The command/inspection ship THETIS, seen here earlier
entering Copenhagen on August31, 2007.
(Photo: Johnny E. Balsved)
Translated by Alan Russel (April 6, 2008)
4

ABSALON in Task Force 151 (2009) - 03/08/2009
4Next Stop Malta - 08/18/2008
4ABSALON to Task Force 150 - 07/29/2008
4Drones onboard THETIS - 03/15/2008
4Corvette returns home again - 10/21/2007
4OLFERT FISCHER on long-distance assignment - 07/18/2007

- Do you miss a major event on this Site,
or do you hold a great story?
Are you able to contribute to the unfolding of the Danish Naval History,
please e-mail me, enclosures are welcome.
Please remember to list your sources.
You can also use the Naval Web Forum on this web-site.