MSD6 launched in Skagen:
The sixth and last
Mk I standard vessel takes to the water!
On Saturday Danish Yacht A/S launched the last of the HOLM-class vessels, on time and according to schedule.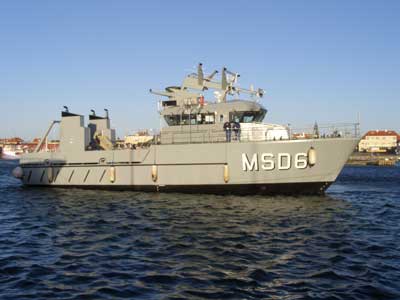 MSD6 seen here in Skagen immediately after launch.
(Photo: Danish Yacht A/S)
By Johnny E. Balsved
On Saturday 3 November Danish Yacht A/S in Skagen launched the last of the six new HOLM-class vessels, on time and according to schedule.
The new vessel has been allocated hull number MSD6, as, just like the fifth vessel, HIRSHOLM, it is also to be used as a minesweeping drone, thereby replacing the smaller MRD-class drones.

Naming ceremony
The yard expects to the deliver this last vessel of the class to the Danish Defense Acquisition and Logistics Organization (DALO) by the end of this month, whereupon the yard can look back on a shipbuilding program that delivered the vessels on time.
The MSD6 naming ceremony is expected to take place at the end of March 2008 in connection with its being commissioned into the navy, at which time it's expected that she will be ready for operational use.
This means we'll have to wait for the name, but it's certain contain "HOLM".
Translated by Alan Russel (November 24, 2007)
4MSD6 launched in Skagen - 11/05/2007
4Third Mk I Vessel Launched - 08/06/2006
4First MK I delivered - 02/03/2006

- Do you miss a major event on this Site,
or do you hold a great story?
Are you able to contribute to the unfolding of the Danish Naval History,
please e-mail me, enclosures are welcome.
Please remember to list your sources.
You can also use the Naval Web Forum on this web-site.